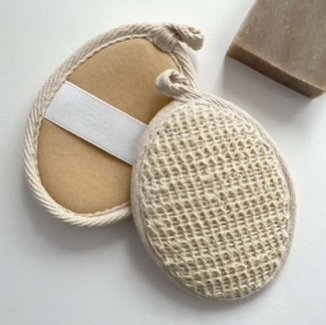 Natural Sustainable Eco Ramie Fiber Oval Loofah Bath Sponge
The ramie plant can be grown without the use of any pesticides, herbicides, and chemicals! The fabric is also naturally resistant to mold, mildew, and bacteria, making it the perfect material for the humid bath environment! The mesh body is ideal for gentle exfoliation while also being easy on the skin. Hang tag states all of these great features!
Each sponge measures approx. 3 3/4" w x 5" l.
Included loop for hanging as well as band on the back for comfortable grip in hand while washing. Rinse and drip dry after use. Hand-stitched by artisans in india.

Natural Sustainable Eco Ramie Fiber Oval Loofah Bath Sponge